Every day, people just like you are learning that the coffee maker you use makes a difference in how your coffee tastes. We love Bunn because they have been making high quality coffee brewers for a long time.
There are two major Bunn home coffee brewer lines – the Velocity Brew and the Phase Brew.
The Velocity Brew models have a water tank that keeps water hot and ready to brew like your home water heater. So they can brew a pot of coffee in 3 – 4 minutes. They brew a 10-cup pot. Within this line you have glass carafe models with a warmer plate (GR / BX /NH models) and thermal carafe models without a warmer (BT / ST models). Other than that, the differences are all styling. So choose by looks.
The Phase Brew models (note: these models have been discontinued – the new Heat N' Brew is similar) don't have a tank to keep the water heated, just a tank big enough for one pot of coffee that is heated when you start brewing. They take longer to brew because they need to heat the water prior to brewing so they take about 10 minutes to brew a pot of coffee. They also use less energy because they aren't keeping a tank of water hot all the time. But they only brew an 8 cup pot of coffee. They also take up less space on the counter top because they don't have the big tank. I personally love the styling of the Phase brew models. They come in either a glass carafe with a warmer (HG) and thermal carafe without a warmer (HT).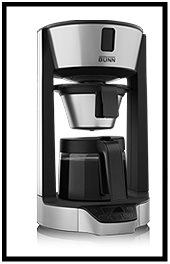 Bunn Phase Brew HG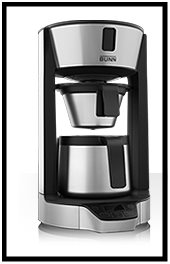 Bunn Phase Brew HT
Bunn also makes a couple of single cup type home coffee brewers. The My Cafe can use K-Cups, ground coffee, soft pods, or dispense hot water – probably the most versatile single cup brewer on the market. If you are a real coffee aficionado the Trifecta is a sort of automated French press that has lots of settings to allow you to customize your brew.