You've been using a 12-cup commercial decanter coffee maker, like the Bunn CWTF 15-312950.0213, for years. Now you need more coffee faster as you're getting tired of baby sitting the brewer to make pot after pot while a line of people wait for coffee. So its time to upgrade to a larger brewer. But with all the options out there which brewer should you buy?
The major types of brewers to look at for a step up are:
Airpot Coffee Brewers
Thermal Server Coffee Brewers
Satellite Coffee Brewers
Urn Coffee Brewers
As with anything, which type of brewer is best for you depends on your needs and what you like. Lets take a closer look at each type.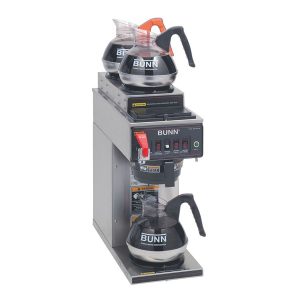 Airpot Coffee Brewers
You may already have an airpot brewer and are wondering why I am saying its a step up from decanter brewers. Possibly you have a smaller airpot brewer using 2.2L airpots which aren't much bigger than decanters (1.9L). But there are two reasons airpot brewers are a step up from decanters. First, you can brew many airpots full of coffee ahead of time and not have people waiting. Second, you can get airpot coffee makers for larger airpots like the Fetco CBS-2131XTS or Bunn ICB that brew into 3L or 3.8L / 1 gallon airpots. Since 1 gallon airpots hold twice as much coffee as a single decanter they can be a real timesaver when brewing lots of coffee.
To take full advantage of airpots you need a 240 volt brewer because the longer wait for the water tank to reheat between pots with a 120 volt brewer slows things down. A 120 volt decanter brewer is rated to brew about 3.9 gallons/hour. A 120 volt 1 gallon airpot brewer is rated to brew 5.1 – 5.8 gallons/hour with less effort changing filters and grounds. A 240 volt airpot brewer is rated for 11+ gallons/hour – more than twice the coffee in the same time.
Many people like airpots because coffee is dispensed into the cup without needing to pick up a pot full of hot coffee possibly dropping it or spilling it. On the other hand, some people dislike airpots as they don't have sight gauges to let you know how much coffee is left in them at a glance. Others don't like thermally insulated dispensers like airpots and thermal servers because the coffee cools off over time even though a good quality airpot will keep coffee hot for several hours. But because the airpots themselves are a lot cheaper than the thermal servers and satellites used in other high volume solutions an airpot coffee brewer is the most economical step up to higher volume brewing.