We have been talking about moving up from a small 12 cup decanter style coffee brewer when you need higher volume brewing. We started looking at the major types of brewers to consider:
Airpot Coffee Brewers
Thermal Server Coffee Brewers
Satellite Coffee Brewers
Urn Coffee Brewers
So far we have discussed airpot, thermal server and satellite coffee brewers. So now its time for our final installment on urn coffee brewers.
Urn Coffee Brewers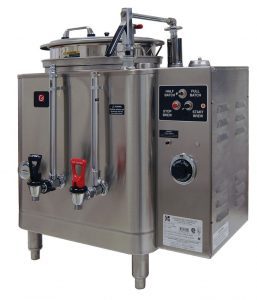 Curtis RU150-12 Urn Coffee Brewer
Urn coffee brewers are essentially large boxes full of heated water (called the water jacket) with one or two buckets (called liners) sitting in and surrounded by the water. Coffee is brewed into the liner(s) and the surrounding heated water keeps the coffee hot. The liners are connected to a faucet on the front of the brewer for dispensing coffee. In most urn coffee brewers, Like the
Curtis RU150-12 Urn Coffee Brewer, water for brewing is pumped from the water jacket to the spray head. There are some models, like the Grindmaster American Metal Ware 7413E Urn Coffee Brewer, that brew using fresh water by routing brew water from the water inlet through a heat exchange coil that is surrounded by the hot water in the water jacket. This eliminates the pump and ensures that water used for brewing hasn't sat in the water jacket for hours before brewing.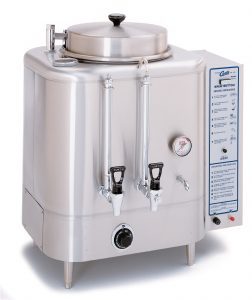 Grindmaster American Metal Ware 7413 Heat Exchange Urn Coffee Brewer
Urn coffee brewers are different from airpot, thermal server and satellite coffee brewer in that the coffee dispenser is an integral part of the brewer and can't be moved to a remote location. This means:
You can't easily brew your coffee at one location and dispense it at another location.
You can't use additional dispensers to brew up extra batches for your peak ahead of time
The urn liners need to be cleaned in place – they can't be removed and taken to a sink to clean like thermal servers and satellites
Most twin urn coffee brewers can only brew into a single side at a time whereas most twin thermal server and satellite coffee brewers can brew both sides at once.
Urn coffee brewers are popular for high volume coffee brewing for several reasons:
Water jacket heating is arguably the best way to keep coffee warm to minimize flavor deterioration over time.
Sturdy fixed brewer / dispenser eliminates any chance of knocking dispenser over, dropping dispenser, etc.
Large to very large sizes available. Single and twin 3 – 10 gallon sizes are common, and 60 to 160 gallon urn coffee brewers are available.
Most urn coffee brewers can be ordered with optional multiple faucets including faucets on both sides of the brewer for more efficient self service dispensing.
Some models are available with natural gas or propane heating, like the Curtis RU600-35 Twin 6 Gallon Natural Gas Urn Coffee Brewer, for energy cost savings and/or portable installations.
Urn coffee brewers are popular with very high volume settings, particularly self service locations, such as cafeterias, hotel buffets and banquet halls.